Chance The Rapper Is Donating His Grammy To DuSable Museum In Chicago, IL.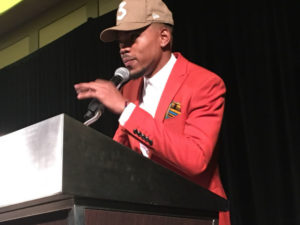 Chance The Rapper Announced Saturday, He Will Be Donating His Grammy Award To The DuSable Museum Of African American History In His Hometown Of Chicago, IL.
He Surprised The Museum Officials During a Gala Event On June 24th, Reported By The Chicago Sun-Times.
During His Speech, Chance Stated That He Wants To Make The Museum "A Staple Of African American History".
Chance Will Be Donating His Best Rap Album Award Won at The 2017 Grammy Awards. Which Is Part Of Music History.
His 'Coloring Book'  Album Was The First Streaming-Only Album To Win This Award.
Chance Has Made Tremendous Strides To Help His Hometown By Giving Back To The Schools In Chicago.
On Sunday, a Night After Making This Announcement at The Gala, Chance The Rapper Received The Humanitarian Award At The 2017 BET Awards In Los Angeles, CA.
Salute To Chance The Rapper For Everything He Stands For, and Does To Make Our World a Better Place!