Snoop Dogg, Ice-T, and Mary J. Blige To Receive Star On The Walk Of Fame!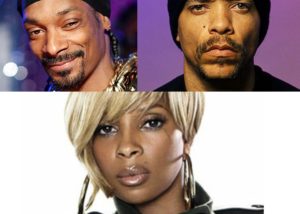 Rappers Snoop Dogg, Ice-T, and Queen Of Soul and R&B, Mary J. Blige Have All Put-In Extensive Work Over The Years In The Music Industry.
Combined, The Three Have Released Over 73 Albums To Date. Mary Just Releasing Her Latest Album, 'The Strength Of a Woman' Earlier This Year.
Announced By The Hollywood Chamber of Commerce, In 2018, The Three Of Them Will Be Receiving a Star Along The Hollywood Walk Of Fame.
Also Receiving a Star, Scandal Producer, Shonda Rhimes, Empire's Taraji P. Henson, Blackish Actor, Anthony Anderson, Country Singer, Carrie Underwood, Niecy Nash, Rupaul, and The Late Chicago Comedian, Bernie Mac.
No Specific Dates For Any Of The Honorees Just Yet. They Have Up To Two Years To Pick a Date For Their Star Ceremony.
Congratulations To All The New Honorees. It's Definitely Well Deserved.
Save