25 Years Ago Mary J Blige Released Her Debut Album, What's The 411
25 Years Ago, Mary J Blige Came Into The Music Industry Just Wanting To Sing. She Had No Idea At The Time She Would Still Be Releasing Music and Touring Across The World In 2017. Over The Years, Becoming One Of The Biggest R&B Music Icons.
Recently, Her Debut Album, 'What's The 411' Hit 25 Years Since Being Released. She Went Onto Social Media To Share Her Thoughts…
"Wow!!!! 25 years ago when I walked into this business I had no idea what was going to happen. I just know I wanted to sing," she tweeted. "Deep in my heart I knew I wanted to touch the lives of women and people. I've done that 25 years later and I'm still doing that by the grace and mercy of God on a level I never even imagined."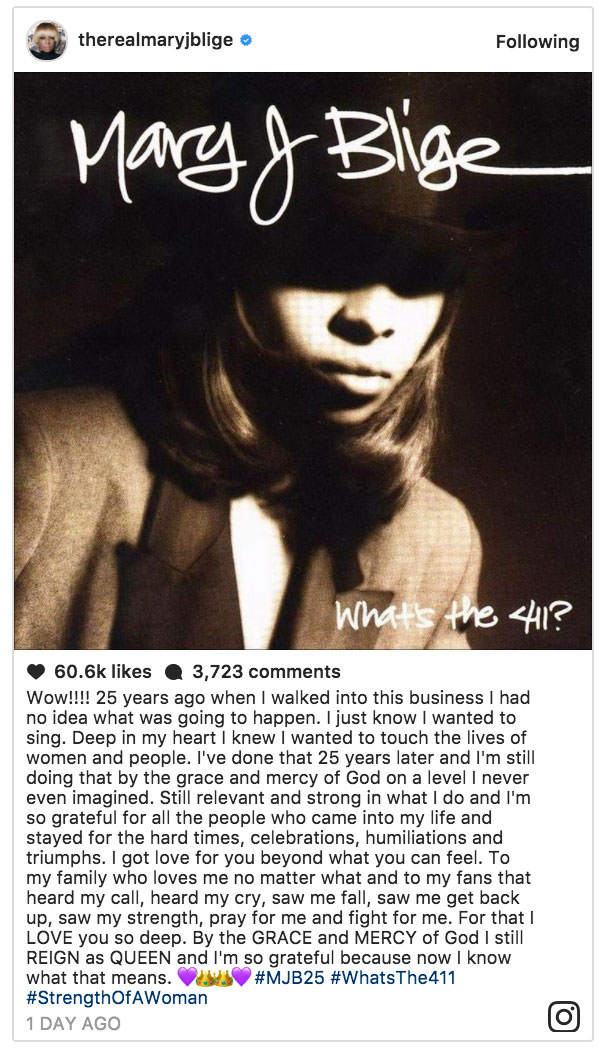 The Queen Of R&B Went Onto Write How Humble and Proud She Is Of Herself During Her Career Of Ups and Downs Through Out The Years, and Thanking The People Who Have Stuck By Her Side,
"Still relevant and strong in what I do and I'm so grateful for all the people who came into my life and stayed for the hard times, celebrations, humiliations and triumphs," she added. "I got love for you beyond what you can feel." She Went On To Say, "By the GRACE and MERCY of God I still REIGN as QUEEN", "And I'm so grateful because now I know what that means!!"
Mary Just Released "Strength Of a Woman" Last April. Her 13th Studio Album Since The Debut Of 'What's The 411'.