Moroccan Rapper, Manal Is Making Major Moves After a Long Road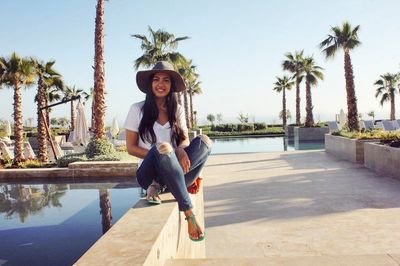 The 24 Year Female Moroccan Rapper, Manal Has Come a Very Long Way In Pursuit Of a Career In Music.
She Started Gaining Local Popularity With Her 2015 Hit, "Denia", Working With DJ Van(A Local Producer) In Morocco.
Followed By "Koulchi", Reaching The Music Charts In 2017.
That Year, Manal Was Presented With Bogus Music Contracts That Wanted To Control Everything , Down To The Lyrics She Would Sing.
Going With Her Gut, Rejecting and Reaching Out To Fellow Artist, Cilvaringz. Who Works With American Rap Group, Wu Tang Clan.
Cilvaringz Introduced Manal To Some Hip Hop Beats; Eventually Managing Her Music Career.
Since Releasing Her 2018 Hit Song, "Taj", Where She Raps For The First Time On a Track.
Manal Most Recently Performed At The DxBeats Showcase at The Dubai Opera…Performing Her New R&B Single, "Nah".
After Her Amazing Performance, The 24 Year Female Moroccan Artist Was Signed By Sony Music Middle East.
With Her Career On The Rise, She Hopes To Give Voice To Moroccan Artists, and Showcase What She Has To Offer The World.
Looking Forward To See What's Next For Female Rapper, Manal.