Playboy Founder, Hugh Hefner Has Passed Away At The Age of 91
The Man Behind The Playboy Magazine, Clubs, and Enterprise, Hugh Hefner Has Passed Away At The Age Of 91.
He Died Of Natural Causes On September 27th In His Los Angeles Estate, Surrounded By Family and Close Friends.
His Son Cooper Made a Statement a Few Hours After His Father Passed,
"My father lived an exceptional and impactful life as a media and cultural pioneer and a leading voice behind some of the most significant social and cultural movements of our time in advocating free speech, civil rights and sexual freedom," he shared. "He defined a lifestyle and ethos that lie at the heart of the Playboy brand, one of the most recognizable and enduring in history."
Cooper Added, "He will be greatly missed by many, including his wife Crystal, my sister Christie and my brothers David and Marston, and all of us at Playboy Enterprises."
Born In Chicago, On April 29th 1926, Hugh Set Out For Greatness at An Early Age.
At The Age Of 9, He Released His First Magazine(Bi-Weekly News). It Was a One Page Magazine That He Sold For a Penny a Piece Around The Neighborhood.
By The Time He Was In His 20s, Hugh Dabbled as an Editor, and Writer For Several Magazines.
When He Was 27 Years Old(In 1953) Hefner Launched His First Issue Of Playboy, Which Is Now One Of The Biggest Magazine Ever Known To Man.
The Very First Issue Features Actress, Marilyn Monroe On The Cover With Nothing But a Sexy, Come Here Look. It Sold 53k Copies & The Rest Is History.
Many Well-Known Woman Including Cindy Crawford, Drew Barrymore, Madonna, Carmen Electra, Sharon Stone, and Even Kim Kardashian Have Been On The Cover.
Playboy Magazine Not Only Focuses On Beautiful Woman, But Fine Articles On Music Too. Particularly, Jazz Music. It Was a Passion To Hugh.
The First Issue Has An Article On The Jazz Group, The Dorsey Brothers.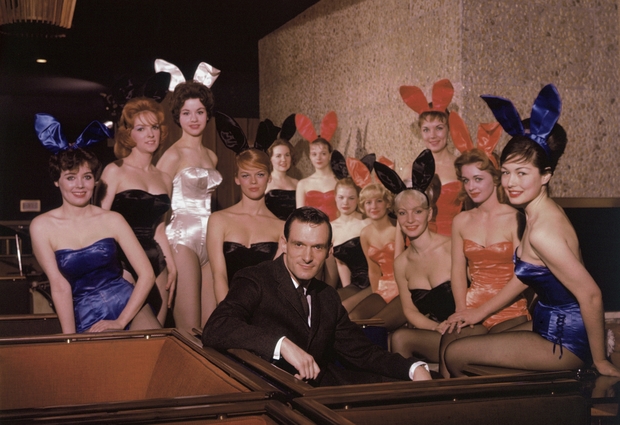 Over The Years, Hugh Hefner Has Had a Big Impact On Music. He Opened Doors For Many Singers and Musicians at His Playboy Clubs(Opened In 1960)..
Some Of The Biggest Names In Music Have Performed at His Clubs: Including: Louis Armstrong, Pianoist, Dave Brubeck, Bobby Short, Irwin Corey, Mabel Mercer, Mae Barnes Ruth Brown, and Many, Many Others. Even Opening The Doors To Upcoming Artists To Perform.
During The 70's and 80's, Playboy Clubs Took Over Chicago(First One), Miami, New Orleans, New York, Atlanta, Los Angeles, Detroit, San Francisco, Boston, Des Moines, Kansas City, Phoenix, Baltimore, Cincinnati, Denver, Dallas, Buffalo, St. Petersburg, FL, Lansing, San Diego, Columbus, OH, Lake Geneva, WI, Omaha, St. Louis, Cancun, India, London, Japan, and Greece.
The Playboy Clubs Were a Place For Music, Drinks, and a Good Time.
Hugh Hefner Leaves a Legacy Behind. Living 91 Years Full Of Sex, and Success! It Doesn't Get No Better. #RIPHughHefner
Save
Save
Save
Save