P!nk Releases "Beautiful Trauma" Video ft Cameo From Channing Tatum: WATCH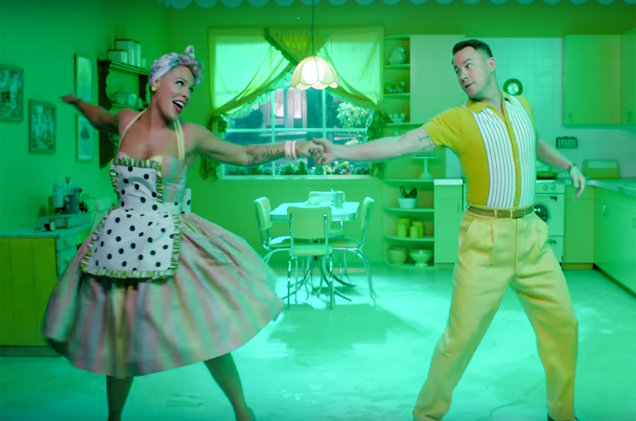 In This 1960's Themed Music Video, P!nk Portrays a "Perfect" Housewife For Her Husband(Channing Tatum).
The Two Transform To Ginger and Fred Hart — A Tribute To Fred Astaire and Ginger Rogers.
Ginger(P!nk) Begins The Morning With a Stretch, Getting Out Of Bed To Start Her "Housewife" Duties. While Husband(Channing) Sits On The Plastic Covered Chair and Reads The Morning Paper.
Ginger, Not So Perfect Goes Onto Burning a Hole In Fred's Shirt With The Iron, Then Burns The Breakfast She Has Prepared For Him.
Fred Sneaks Some Alcohol Into His Morning Coffee, While Ginger Takes a Handfuls of Pills From The Cabinet, Playing On The Song's Hook "My love, my love, my love, my drug."
The Two Break Out In a Choreographed "Beautiful Trauma" Dance In The Kitchen.
Followed Up With a Scene Of Ginger and Fred Cross Dressing, Dancing Around Their Bedroom.
Later, Enjoying The Evening Drinking, Dancing and Having a Good Time.
Eventually Ending Back In Bed, Where The Day Began.
CHECK OUT THE FULL VIDEO(BELOW) For P!nk 'Beautiful Trauma'...