Remembering Antoine "Fats" Domino(February 26, 1928 – October 24, 2017)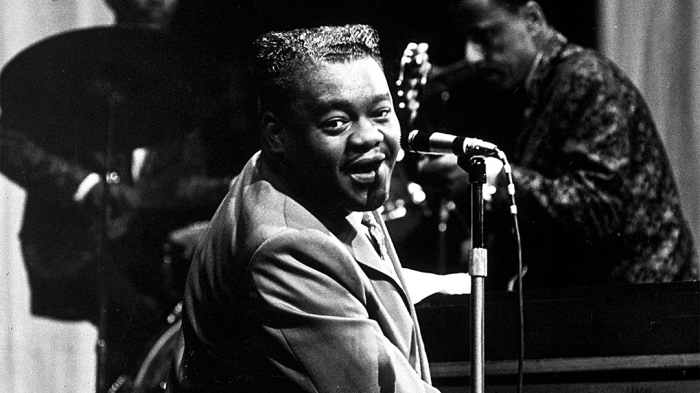 Antoine "Fats" Domino, Was a Pioneer Of Early Rock 'N' Roll With His Keyboard Based Hits, "Ain't That a Shame, "I'm Walking", and "Blueberry Hill".
Born and Raised In New Orleans, Louisiana, He Was The Eighth and Final Child of Antoine Caliste Domino (1879–1964) and Marie-Donatille Gros (1886–1971). His Brother-In-Law, Jazz Guitarist Harrison Verrett Went On To Teach Him How To Play The Piano In The Early 40s.
By The Age Of 14, Domino Was Performing In Plenty Of Bars Around Town. That Is Where Billy Diamond, a New Orleans Bandleader, Accepted An Invitation To Hear Him Perform At a Backyard Barbecue. After Liking His Performance, He Asked Him To Join The Band, The 'Solid Senders'.
He Would Later Be Signed To Imperial and Bartholomew Records, Releasing 9 Number One R&B Hits, and 40 Top-10 R&B Singles.
Domino Has Influenced Several Artists Over His Career; Including: Little Richard, Elvis Presley, Chuck Berry, Buddy Holly, John Lennon, Paul McCartney, Van Morrison, John Fogerty, Bob Marley and Bruce Springsteen.
In The Early '60s With a Change of Labels, From Imperial to ABC-Paramount, His String Of Top Hits Had Almost Ended.
Domino Eventually Returned To The "Hot 100" Chart For One Last Time in 1968, With His Recording of "Lady Madonna".
In 1986, Domino Joined Presley, Berry, Holly and Little Richard as An Inaugural Inductee In The Rock and Roll Hall of Fame. Also Receiving a Grammy Lifetime Achievement Award That Year.
Antoine "Fats" Domino Was One Of The Biggest Stars Of Rock and Roll In The 1950s-1960s.
The Musician, Singer-Songwriter Died In His Home Of Natural Causes On Tuesday(10/24), According To The Jefferson Parish Medical Examiner's Office in Louisiana.