Remembering Tupac Shakur On What Would Of Been His 46th Birthday Today!
West-coast Rapper, Tupac Shakur Would Of Been Celebrating His 46th Birthday, Today!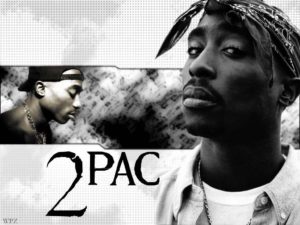 Millions Of Fans Will Remember 2Pac Today By Sharing Music, Pics, and Stories Over Social Media.
Others Will Go Check Out The Just Released Documentary, 'All Eyez On Me' Film About His Life.
& Radio Stations Across The Country Will Play Tupac's Greatest Hits For Their Listeners From Morning Into The Night.
His Legacy Still Strong As Ever, 21 Years After His Life Was Cut Short To Gun Violence In 1996.
Pac Was A Phenomenal Rapper/Lyricist. With a Massive Following Of Fans Young and Old By The Words He Brought To Music.
Everything Real, and Uncut; The West-coast Rapper Spoke On REAL Issues Within His Community With Hit Songs' "Keep Ya Head Up", "Dear Mama", "Changes", "Brenda Got a Baby", "Me Against The World", "Life Goes On", and So Many More!
Track After Track, From 1987-1996, Tupac Poured His Heart & Soul Into. With Over 300+ Songs Released.
Nine Of His Albums Released After His Death. With Songs Still Being Released In 2017.

Tupac Shakur Is a Music Icon, and Will Always Be Remembered For What He Brought To The Arts.
Today Is #TupacShakurDay In Oakland, But Around The World People Will Mourn One Of The Greatest Rappers, Tupac Shakur.
Check Out Some Past Pics, and Interviews Below….
Gone But Never Forgotten……
Lesane Parish Crooks Known as Tupac Amaru Shakur (June 16th, 1971 – September 13th 1996)
https://www.youtube.com/watch?v=CCMi4BASakI
https://www.youtube.com/watch?v=gtrlZIhBnFw
Tupac Shakur's Last Interview In 1996 With MuchMusic…
Save
Save
Save