International Women's Day; Celebrating Inspirational, and Trailblazing Women In Music History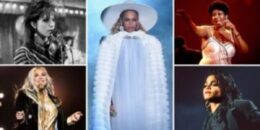 There are many names that come to mind when I think of strong, and inspirational women who have paved the way in music.
Ella Fitzgerald, Aretha Franklin, Dolly Parton, Madonna, Reba McEntire, Gladys Knight, Janet Jackson, and Mariah Carey To Name a Few…
Jazz Singer, Ella Fitzgerald who was dubbed "The First Lady Of Song" was the most popular female singer in Jazz for over a century in the US. She won 13 Grammy awards, and sold over 40 million albums world wide.
Female Artists, Beyonce, Rhianna, Taylor Swift, and newcomer, Lizzo are currently paving the way for the many generations to come of woman who have a dream just like them to become a music artist.
Globally, there are female artists like Adele, Cheryl Cole, Ellie Goulding, and Saudi Arabian female singer, Najwa Karam who have accomplished a plethora of achievements. All while inspiring many other woman along the way to stand up, and be proud.
Singers, Lady Gaga, H.E.R., Mariah Carey, Shakira, and others shared powerful messages via social media today(03/08) in celebration of women's day.
International Women's Day is celebrated on March 8th around the world.
Happy International Women's Day From Music Assent!!