Legendary Guitarist, Eddie Van Halen Has Passed Away at 65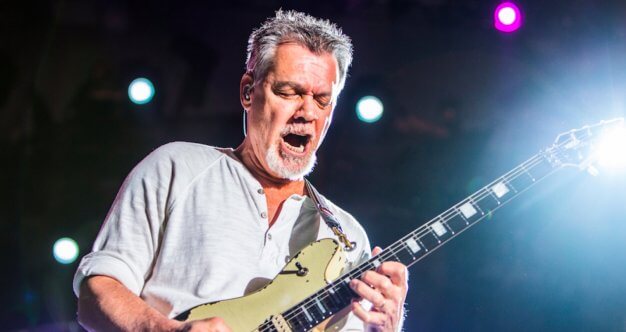 Known as the "greatest guitarist of all time", Eddie Van Halen, has passed away on October 6, 2020 after a long battle with throat cancer.
His son announced the sad news via Twitter of his father's passing on Tuesday.
"I can't believe I'm having to write this," he said, "but my father, Edward Lodewijk Van Halen, has lost his long and arduous battle with cancer this morning.
"He was the best father I could ever ask for. My heart is broken and I don't think I'll ever fully recover from this loss."
Wolfgang, who became Van Halen's bassist, added: "I love you so much, Pop."
Eddie Van Halen was born in Amsterdam in 1955, and later moving to the US in 1962.
Eddie and his brother Alex became musically involved at an early age of 6. They began with Piano lessons. Later went onto the drums, before picking up the guitar.
Never learning to read music, Eddie found it easier to watch, and listen to the sounds. He would correct his sound while playing.
In middle school, Eddie and Alex formed the band, 'The Broken Combs", and would perform during school lunches, and assemblies.
Eddie and Alex formed VAN HALEN in 1972 with band mates, Michael Anthony, and David Lee Roth. The band performed at popular night clubs and venues through out Los Angeles in the early 70's.
Warner Bros Records signed the band in 1977. Their self-titled album, 'Van Halen' was released on February 10, 1978. The album peaked at #19 on the Billboard 200 and sold more than 10 million copies in the United States.
The band would become one of the greatest Rock bands of all time over the decades, releasing 12 studio albums, two live albums, two compilation albums, and 56 singles.
Their biggest hit "Jump" was released in December of 1984. The Single was off their "1984" album. It reached #1 on the billboard Top 100 Chart and reached Gold in Italy, United Kingdom, and the United States.
RIP to the Greatest Guitarist Of All Time, Eddie Van Halen. Gone, but NEVER forgotten. Our Condolences to his family, friends, and fans across the World.